Home » HEADLINES » Malaysia Airlines plane MH17 with 295 on board 'shot down' in Ukraine
By Zimbabwe Investor on July 17, 2014. No Comments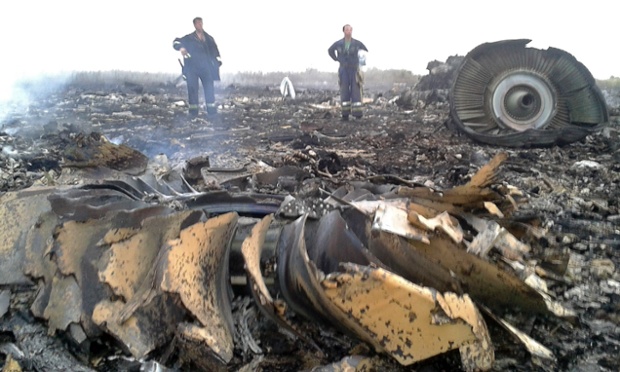 A Malaysian Airlines passenger plane has been shot down on the Russian-Ukraine border in an 'act of terrorism', killing all 295 people on board including a reported five to ten Britons and 23 Americans.
The Boeing 777 aircraft was hit by a sophisticated surface-to-air missile over territory near Donetsk held by pro-Russian rebels who the Ukrainian government says are backed by the Kremlin.
The Ukrainian authorities laid the blame for the attack on the rebels by denying any responsibility for the missile launch, with President Petro Poroshenko called the downing an act of terrorism as he called for an international investigation into the crash.
TV pictures from the scene showed a pall of smoke billowing into the sky near Donetsk, apparently from the stricken flight MH17.
Witnesses say body parts are scattered over a distance of 15km, suggesting the plane broke up in mid-air.
Whitehall sources told MailOnline that between five and ten Britons were feared dead. Interfax news agency reported that 23 U.S. citizens were on board, and it is thought that 71 Dutch, 27 Australians and four French citizens were on the plane.
Schiphol Airport boss Jos Nijhuis confirmed at a press conference in Amsterdam that there had been at least six British people on board, although the nationalities of more than 90 people have yet to identified.
The new Foreign secretary Philip Hammond said tonight he believes there were British nationals among those on board the plane but does not have detailed information as to the exact number, or what had caused the plane to crash.
Speaking at the Foreign Office following emergency talks with ministers and officials, he called for an international investigation led by the United Nations to establish exactly what happened to the aircraft.
'I'm deeply shocked by this appalling incident and I send my heartfelt condolences to all those who may have lost family and friends. We're determined to get to the bottom of understanding what has happened here,' he said.
'As yet we do not have any definitive information about how this incident occurred and I don't want to speculate at this stage. We believe that there must be a UN-led international investigation of the facts.'
He said that Britain was prepared to make Air Accident Investigation Branch assets and specialists available to assist such an investigation.
Meanwhile, Russian President Vladimir Putin in a telephone conversation told U.S. President Barack Obama that a Malaysian airplane crashed on Ukrainian territory, the Kremlin said.
The two leaders held a pre-planned call on the situation in Ukraine during which information became available from air traffic controllers about the crash.
Twenty-three Americans are feared dead in the crash, which President Barack Obama called a 'terrible tragedy'.
The president spoke briefly about the crash as he appeared in Wilmington, Delaware on Thursday afternoon and said his national security team are working to determine if there were any U.S. citizens on board the plane that was carrying 295 people to Kuala Lumpur.
'Our thoughts and prayers are with all the passengers' families,' he added.
Najib Razak, the Malaysian prime minister, said: 'I am shocked by reports that an MH plane crashed. We are launching an immediate investigation.'
Later, addressing a press briefing, he described it as: 'A tragic day in a tragic year', adding that the Malaysia Airlines jetliner did not make any distress call before it went down in Ukraine, and that the flight route was declared safe by the International Civil Aviation Organization.
'The Ukrainian authorities believe that the plane was shot down,' Najib said in the statement.
'At this stage, however, Malaysia is unable to verify the cause of this tragedy. But we must, and we will, find out precisely what happened to this flight. No stone will be left unturned.
'If it transpires that the plane was indeed shot down, we insist that the perpetrators must swiftly be brought to justice.'
He said also that Malaysia was sending a special flight to Kiev with a disaster assistance and rescue team.
Dutch Prime Minister Mark Rutte, who had been attending a European Union summit in Brussels, has headed back to the Netherlands to deal with fall-out from the crash.
United Nations Secretary-General Ban Ki-moon called for 'a full and transparent international investigation' into what brought down the plane.
'I am closely monitoring the reports, along with the International Civil Aviation Organization, a United Nations agency. There is clearly a need for a full and transparent international investigation,' he said.
The aircraft, which was carrying 280 passengers and 15 crew, was flying between Amsterdam and Kuala Lumpur after taking off at lunchtime today.
It is believed the plane was struck by BUK surface-to-air missile at 33,000ft around 20 miles before entering Russian airspace.
The missile system is an old Soviet-built weapon designed to engage light aircraft, cruise missiles and drones.
Ukrainian President Poroshenko issued a robust denial that his forces were involved in shooting down the plane, saying: 'We do not exclude that this plane was shot down, and we stress that the Armed Forces of Ukraine did not take action against any airborne targets.'
'We are sure that those who are guilty in this tragedy will be held responsible,' he added.
Ukraine's state security chief accused two Russian military intelligence officers of involvement in the downing of a Malaysian passenger plane in eastern Ukraine on Thursday and said they must be punished for their 'crime'.
SBU chief Valentyn Nalivaychenko said he based his allegation on intercepts of phone conversations between the two officers.
'Now you know who carried out this crime. We will do everything for the Russian military who carried out this crime to be punished,' he told journalists.
A Boeing spokesman said: 'Our thoughts and prayers are with those on board the Malaysia Airlines airplane lost over Ukrainian airspace, as well as their families and loved ones.
'Boeing stands ready to provide whatever assistance is requested by authorities.'
As the drama unfolded, several other passenger jets were flying through Ukrainian airspace on one of the main routes from Europe to Asia for air traffic.
Today's calamity will prompt questions about why the route was still being used given previous incidents.
A UK Civil Aviation Authority (CAA) spokesman said: 'The Ukrainian authorities are responsible for managing their airspace and the UK or other countries cannot enforce airspace restrictions in the area.
Today's downing of a Malaysian Airlines passenger plane is a grim reminder of events more than 30 years involving a Korean Airlines flight.
In an incident still shrouded in controversy and conspiracy theories, a Korean Airlines flight 007, flying from Alaska to Seoul in South Korea, was shot down by a Russian fighter on September 1 1983.
The aircraft came down at sea, killing all 269 people on board.
It had entered Soviet airspace and it later transpired that it had flown a long way off course. But this was the height of the Cold War and there were 61 Americans on board the doomed plane, so immediately recriminations began.
The Soviets assumed the passenger plane was a US spy aircraft while the US President Ronald Reagan called it 'a massacre' and 'a crime against humanity'.
Initially, the Soviet Union denied responsibility. Years later the Russians conceded that the Soviet action had been tragic but necessary, given just how far off course the civilian plane had got.
– Daily Mail